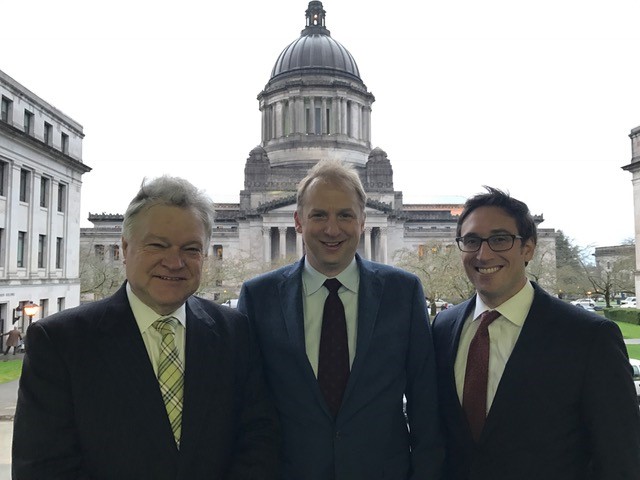 Joe Wallin and Danny Neuman were in Olympia on March 14, 2017, to testify at the Senate Financial Institutions & Insurance Committee for a bill to simplify small securities offerings.  HB 1593 was drafted and introduced by Rep. Brandon Vick (R-Vancouver) with help from Joe and Danny.
Before today's hearing, the pair of Carney start-up lawyers were given a behind-the-scenes tour of the state Capitol by Olympia insider Mel Sorensen.
About Carney Badley Spellman, P.S.
Carney Badley Spellman is about Advocacy, Strategy, Results. Located in Seattle, we are a full-service law firm committed to exceptional client service and professional excellence. Our firm serves individuals and businesses of all types and sizes. Also, our attorneys work with closely-held companies to Fortune 500 corporations in the Pacific Northwest and across the United States. Although Carney Badley Spellman's location is in Seattle, Washington, we are proud to be a part of the Washington state community and communities across the nation.